Fly Me To The Moon Back Issues
By Rob Nichols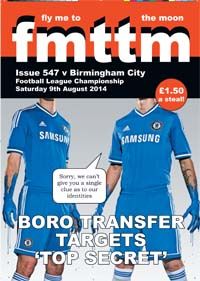 t is high time we opened our fanzine shop again for this season. This is the place to come to order all the back issues from this season. The prices quoted are for the paper fanzine and for UK only as postage abroad can be prohibitive.
All purchases are via paypal. £2.50 per issue ordered (UK postage included).

Hold onto your Boro scarf as the winter starts to chill and Aitor Karanka's Boro start to take off.
Issue 547 Boro v Birmingham City 9/8/02014 –
The start of the season and the aim was to bring the promise of the close season into the Championship – and that as it happens was exactly what did.. err.. happen. A 2-0 win, a scorline that flattered a Brum team that didn't manager a single shot on target.
The fanzine included an interview with former England World Cup centre forward, Alan Peacock talking Boro and cutting the turf at a brand new Sports Village sprouting up at Prissick. As one new era starts another closes. There was a sad interview with George Harris closing Boro Programmes and retiring – the end of an era.

Issue 548 Boro v Brentford 20/9/02014 –
Boro bounced back from 2 home defeats by winning not 1 but 2 on the road. Could we bring that winning habit back home? Yes, you bet you, we could.
We looked forward to home debuts for Jelle Vossen and a first start for Patrick Bamford. The fanzine featured an interview with Steve McClaren opening a new club house at Cleveland Juniors and waxing lyrical about the golden years of Europe and the Premier League. Playing like this under Aitor maybe those dreams won't seem quite so distant come May…

Issue 549 v Fulham 4/10/2014
Boro fans got a chance to reminisce about that incredible late, late penalty show at Anfield. Boro fans like to travel in style - none more so than the MSS boat cruise down the Thames to Charlton. A Boro great, John Hickton, was celebrating his 70th birthday, we paid tribute to Big John. We looked ahead to Three Boro Writers - John Nicholson, Harry Pearson and Daniel Gray putting on a little show at Middlesbrough Library on Sat Oct 25th.
Issue 550 v Bournemouth 8/11/2014

Boro went to head to head with top of the league AFC Bournemouth – 2nd faced 1st – surely something had to give. Well, not the cross bar as Adam Reach knew only too well. There was an interview with the great John Hickton inside at the launch of the special 20th anniversary issue of Ayresome Park Memories. Yes, it is really coming up 20 years since we ground hopped to the Riverside.
Issue 551 v Nottingham Forest Boxing Day 2014

Our fmttm festive special including interviews from Boro's Golden Ticket party for champion children with manager Aitor Karanka, super stopper, Dimi Konstantopoulos, double Boro power from Lee Tomlin and hat trick hero, Jelle Vossen. Boxing it off we have Christmas crackers and New Year's wishes from many of our writers. One for the collection.
Issue 552 v Huddersfield Town 17/1/2015


Boro and Northern Ireland winger Terry Cochrane has a book out we have an interview about See You At the Back Post. We become Besotted with Brentford – it does help when you do the double over them. Billy The Bee gave everyone the lowdown on where to drink and how to travel to Griffin Park the pub with 4 pubs on the corners.
Issue 553 v Charlton Ath 7/2/2015
Boro are steaming forward on two fronts in the league and of course the cup. I tell the story behind my brief One Show appearance. We talk about Aitor ruining all our pitfalls and traditions and officially ending January jitters and all get very excited indeed about the Man City victory and look forward to taking on Arsenal. From Etihad to Emirates.
Issue 554 v Ipswich Town
Lunch time kick-off madness, proclaimed the cover. But this was the start of the epic 8 day week everyone had been hiding behind the sofa from all season. Ipswich was to be sensational, at Derby we were dynamite. Wheels fell off at Bournemouth. Inside, writer Richard Milward swapped his Apples for Boro talk. Wilton Walter was even starting to get excited
Issue 555 v Wigan Athletic
Election Fever – although (almost) everyone seemed to ignore the fmttm season Poll. Artist Mackenzie Thorpe filled up with Tees Pride as he described us as the hidden heart of the north. Only the loanees was the unpleasant serenade from the The Whale Hill Cheese and Skittles Society, courtesy of Uncle Harry.
Issue 556 v Brighton and Hove Albion
Sell o

ut but after the Fulham fiasco the part-timers asked for their money back. Got to work.. of course you do… need to save up for Wembley.. you should be so lucky… Bitter of course I am it is the Boro boos talking. We had a middle page fmttm remember when just in case it turns out to be the final, final fanzine issue. We Shall See.. we shall be.
For 2013/2014 Back Issue please Click Here
For prices outside UK or email pdf fanzines please email me here