Fanzine Shop 2014
By Rob Nichols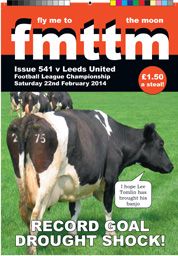 We are well into the era of Aitor Karanka now. It is difficult to know what to make of it all. First he broke the habit of a Boro lifetime and the team went on a winning run post Christmas instead of a slump. Weird.
Then after being the third highest scorers in the division all of a sudden the tap ran dry. Completely dry. And we broke all known Boro records for not scoring in games. In other words it has been a bit of a mixed bag start to the year so far.
This is the place to come to get any of the back issue you may have missed. Those for the first half of the season can be found in the next article in this Fanzine Shop. But here we will concentrate on everything that has happened since New Year 2014. All purchases are via paypal.

So, hold onto your Boro scarf it looks like being a very up and down ride... as always.
Issue 539 Boro v Charlton 18/1/02014 – as Boro's unbeaten run continued would Aitor Karanka be in danger of a manager of the month gong? Jacob Butterfield is Going for Gold at Breckon Hill Primary. Bjarte from Bergen tells us about the Boro/Norway connection. The Spider reminisces about away days 1950s style.
Issue 540 Boro v Blackburn 8/2/2014
This Middlesbrough 0 thing is starting to be a habit. On a day when Paul Robinson was exceptional for Rovers we talked with comic Patrick Monahan about why he was training with MFC Ladies. This issue was rammed full of top articles, Paddy Dillon and Daniel Gray investigated Boro mascots past and present.
Issue 541 v Leeds United 22/2/2014

Unfortunately no goals again. Shay Given's last stand in goal for Boro. This issue included Kei Kamara appealing for us to Dig Deep for the poor of his native Sierra Leone. Olympic long jumper, Chris Tomlinson, was concerned about Clairville Stadium being demolished and Aitor Karanka visited MFC Foundation futsal players.

Issue 542 v Ipswich Town 8/3/2014
Higgy was back in town - we tried the cow's arse route to goal getting could the first ever scorer at the Riverside now get us out of goal gaol? Also inside it was all change for Cleveland Juniors ater Lionsraw helped give this thriving community club the facilities it deserves. Former Cleveland Junior Robbie Blake returns to the club of his youth.
Issue 543 v QPR 22/3/2014

The tale of a divot and a goalkeeper kicking fresh air but not Robert Green. In this issue Paddy Dillon Challenges Karanke to find a new Boro kit in an hour before kick off at Dean Court. The Spider remembers a tragedy that united the village of Great Ayton. The Seller talks about the good old days of bigger better times at the Riverside and asks where have all the fanzine sellers gone?
Issue 544 v Derby County 5/4/2014

Preparing for the return of the Mac. Steve McClaren's return to the Riverside was debated and dissected. Another excuse to look back on the golden years that so many fans seemed to turn their backs on at the time. I would welcome back mid table Premier mediocrity now in a flash. We also remembered Bryan Orritt RIP – he played in every position and was our first ever sub now in the Holgate in the sky.

Issue 545 v Millwall 19/4/2014
Amazingly it was time to pose all the big questions for the end of season poll. Flown by again but not for Jason Steele who talked candidly about his most frustrating season at the Riverside. Young rookie Dave Atkinson was excited about bench warming and looking forward to setting foot on the turf next season.
Issue 546 v Barnsley 26/4.2014
The end is nigh and no one could beat George Friend for best haircut and best looking player but even genial George could not prevent Albert Adomah from scooping our player of the year award. Ben Gibson might have raised the barrier for red cards and penalties conceded but he was also best young player, no contest.
ALL PRICES UK ONLY
Click here for Fmttm Issues Aug to Dec 2013