Boro Futsal Aiming For Super League
By Damon Shaw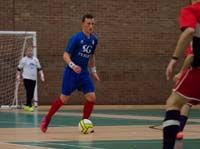 Middlesbrough Futsal Club host Leeds & Wakefield this Sunday aiming to bounce straight back after the defeat to Manchester and qualify for the Super League. Anything other than defeat will secure a place in the Super League, but Boro are still flying high and aiming for 1st place.

With 4 matches left, 4 wins would see Hodgson's boys claim top spot in the league and avoid the Southern heavyweights of the professional Baku United and 5 time champions Helvecia.

As an incentive to fans, this Sunday's game is designated as a "pay what you want" match against Super League and local rivals Leeds. Doors open at 1.30pm at Thornaby Pavilion and the match kicks off at 2pm. Simply pay what you want on the door to enter!

"The fans have been great over the last few years, but we want more people to get behind the club, especially as we are pushing for top spot in the last 4 matches - 3 of which are at home!" said Chris Hodgson.

"We need the support of the town. The boys love playing, are all amateur and we are in a league with professionals, but still doing the town proud. We can't match other teams in terms of money, but we certainly have the best support behind us, which can make a huge difference."

"With 4 big games coming up, hopefully this incentive gives the boys more support than ever before, let's fill the pavilion!!"

Bring a friend and get behind Boro this Sunday! For more information about the match, like Middlesbrough Futsal Club on facebook or follow on twitter. Search "BoroFutsal".