We Are a Premiership Club Says Ledesma
By Rob Nichols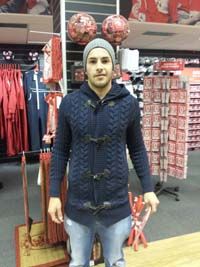 This season has not been a good second season at Boro for Emmanuel Ledesma. The 25 year old from Argentina made more of an impact in his first season after signing from Walsall. A 90th minute red card at Nottingham Forest was a blow for his current campaign but the former QPR player was back on the pitch as a late sub v Birmingham on Saturday. Could he have a first team future over the hectic Christmas period?
This interview was conducted after Ledesma had signed gifts for fans in the Boro shop. It was actually back on the first day after manager Aitor Karanka had been installed. Emmanuel was worried that his English would not be good enough but was a pleasure to interview and a really charming guy who is obviously just desperate to succeed at Boro.

Fly: Did you enjoy meeting the fans?
EL: Yes because there have been a lot of fans. So I am very happy.
Fly: How is it for you this season? You played a lot if first team football last season but not so much yet this time round.
EL: Yes It is a big disappointment for me because I want to play all the games. I know now it is a bad position in the table and disappointing. But I need to play and I want to play. Now there is a new manager and I may have a new chance to play again.
Fly: You speak the same language as the new manager, you might be an interpreter as well? But seriously it might help you, maybe?
EL: Yes I know. It may help me a little bit more because he speaks my language, Spanish, it may help me.
Fly: And you have experience playing in different countries don't you?
EL: Yes I played in Italy, Argentina, I play here, in other teams and I have a little experience but I still need to learn a lot.
Fly: I saw you score a fantastic goal at Hartlepool for the Under 21s last week v Liverpool.
EL: Thank you very much. It was a hard game because in the first half we were 3-0 down and in the second half it is a lot better because 3 goals.
Fly: Last season you played in a lot of different positions and roles in the team.
EL: Yes.
Fly: Have you got a preferred position?
EL: I prefer playing at the top on the right or maybe second striker, behind the top striker in the middle.
Fly: I remember you scoring a great chip away at Charlton last season in that second striker role.
EL: Yes, I think it is better for me on the right because I can go inside maybe shoot, maybe pass, maybe cross. I have more space. I see more of the game.
Fly: Because you have shown that you have vision with your passing skills.
EL: Yes I can pass the last 60 metres or one on one with the keeper and score or make crosses.
Fly: Away at Nottingham Forest this season you came on as sub, we were trying to hang on, and you were trying to hit them on the break but also tackling hard and unlucky to get that red card with a mistimed tackle.
EL: Yes I know. I went on and when I go on I want to win the game. I want to play well. I run. I press. I tackle. But maybe it's a big mistake in the last seconds when I get a red card. But it is because I want to win.
Fly: There was a tremendous atmosphere in that game, the crowd was so loud and their team were really coming at us.
EL: Yes I know but it was a bad day. But I continue to work and maybe have a chance now to play again.
Fly: A new manager. The players must be excited about the new start.
EL: I will maybe speak to him tomorrow ( interview was one day after Aitor Karanka was unveiled) and I will ask him what he wants, just working hard to be on the bench or maybe the starting eleven because I want to play, I want to win this league.
Fly: I know you have played in a lot of leagues and clubs, including QPR but did you find it a big difference coming from Walsall?
EL: Yes a big difference. Walsall is a nice club, I was very happy there but this is a different league, different club. Middlesbrough is Premier League not Championship club. It is a big club. I think it is a big difference.
Fly: And although it is a big club there are always plenty of community events like this where you stay in touch with the fans at this club.
EL: Yes I know I am happy with that. I am happy with the fans because the fans want me; the fans ask me why do you not play? The fans want me to be on the pitch. That for me is nice. And I am very happy for that.
Fly: Good luck I hope it all goes well for you.
EL: Sorry for my English.
Fly: It is much better than my Spanish.
EL: (laughs) Thank you.