Stuart Parnaby - One of the Best Moments of My Life
By Robert Nichols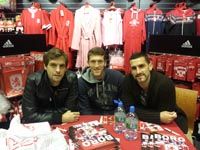 Three Boro players will have their pens poised in MFC Retail this afternoon but will any of them go on to score on a World Cup stage? Last week's trio included Stuart Parnaby. The likeable Durham lad might no longer be first choice right back but he certainly knows all about achieving the heights. And as Boro's least likely scorer he will be forever linked to our European adventure. He also has grown the best Boro Movember tache.


Q: Have you enjoyed meeting the fans?
SP: Yes it is always nice thing to do, especially with Christmas coming up, people getting presents. It is nice to put a smile on people's faces.

Q: Are you eyeing up anything. Kei Kamara bought a Boro onesie.
SP: That doesn't surprise me. Ha ha. I have got a baby on the way so I might get something from the baby section.

Q: How have you found the new manager?
SP: Yes he has settled in really well. It is a week in now and we have had 6 or 7 sessions with him. We can see the way he wants to do things and the lads seem to be enjoying it. It is pretty intense. But it has been good so far.

Q: It will be Karanka's first game at home v Bolton and £12 tickets so it should be quite an occasion.
SP: Well, I am lucky to have seen The Riverside at its best and when it is, it is a tough place for anyone to come. It is a great thing to have the cheaper tickets helping everyone out. It will help people to come and help the lads on the pitch so it can only be to our advantage if the place is full and he'll appreciate it and I am sure the lads will as well.

Q: That game is against Bolton which brings back memories of the cup final and big nights at the Riverside in Europe to follow.
SP: Yes that is right. And it will be a good game to win. We know no game is easy.

Q: I always thought in the Premier League that we were quite similar clubs.
SP: Yes. Very similar. And we played them in the cup final but we pipped them in that and so hopefully next week we will get another one over them.
Q: Following the cup final we had the two seasons in Europe and my outstanding memory of you is your goal at Stuttgart.
SP: It was one of the best moments of my life. Stuff like that you don't forget.

Q: That was a World Cup Stadium against a top Bundesliga club.
SP: Yes it was an unbelievable stage to score especially in a competition like that and I was still only young. I will never forget that memory.

Q: Am I right in saying you played at just about every age group team for England and all over the pitch in different positions?
SP: I signed for Middlesbrough when I was 9 and went all the way through and played for England at every level and you are right in pretty much every position. I didn't play striker or goalkeeper.

Q: Except for when you got in the box and scored in Stuttgart.
SP: Yes. So it is good to look back on what you gave done and achieved and I might not have played as many games as I would have liked over my career but in them games I have achieved quite a lot. My body has let me down a few times but that is part and parcel of it. That's just what you dealt. I don't moan about it, I just get on with it and try to enjoy my football and when I get the chance enjoy it.

Q: Let's hope this could be a start towards bigger crowds.
SP: Obviously you don't want to look too far ahead. You have got to give him time to build how he wants to work and it's going to take time to develop into his style wise, the Spanish have different ways of looking at football. It is going to take a while before we probably see exactly how he wants to play and how we are setting up as a team but it will be good to see it. Already in training you can tell the stuff we are doing is a little bit different to what we have done so hopefully it will get us results on the pitch. Which is the point isn't it.