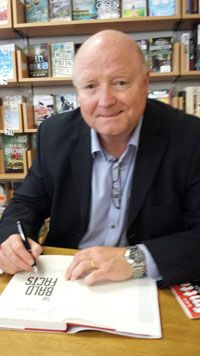 I thought you might like a second chance to read this interveiw with a Boro great and also thanks to the generosity of the publishers have a chance to win his new biography, The Bald Facts.
David "Spike" Armstrong, Charlton's Champion, an Ayresome Angel that never missed a match, he played some 356 league and cup games consecutively for Boro making the left side of midfield his own. Won an England cap, granted a testimonial at just 25. Went on to play in the Harlem Globetrotters of Keegan, Channon and Ball's Southampton, with more national appearances. What a career.
Yet within four years of playing for England he was on the dole. Forced to retire prematurely a succession of ankle operations have left him disabled. He signed professional for Boro at 17 for a wage of just £20! He had to count the cost of a marriage break up and fight off the bailiffs while still a First Division Footballer. The sport he loved has not been an escape from poverty for the man left with a permanent limp as a constant reminder of his glory days.
All this and far more is contained within THE BALD FACTS a powder keg of a biography. By Pat Symes - Pitch Publishing - £17.99
There are two copies to be won in a www.fmttm.com competition – look out for the question at the end.
But first here is a chat with David Armstrong before his recent book signing session at Guisborough Book Shop. As with the book there are some really astute observations by Our Spike. A real gent he is too.
Fly: As a young lad I watched Jack Charlton's team and found it incredible that you had already become established as a regular in the Boro side from being so young.
DA: Yes it was. The whole idea of going into professional football is trying to establish yourself in the first team as soon as you possibly could. Middlesbrough was a perfect club for that as were many of the clubs then, to be honest. They helped nurture and develop youngsters coming through the youth system. Middlesbrough were particularly good at that and I was fortunate to be given an opportunity in 72 under Stan Anderson. I went on to establish myself in the team and a very successful team of course and that helps when you are surrounded by good players. And we had a particularly good side and worked particularly hard for each other and we were brought up with a good work ethic. Jack came in and made us a little bit more professional to make sure that we could compete at the highest level. And we certainly did that. We gave a lot of teams a run for their money at the highest level.
Fly: When Jack came in you all had a specific role in a specific system.
DA: We did, although, the system was very, very good and very successful. So you tend to look at things through rose coloured glasses because we were winning and we were a very, very difficult side to beat. And we had magnificent players and I could reel them off, if you want me to but it would be wrong to single anybody out because as a unit and a team we were a very, very hard side to beat. Jack mentioned, it is in my book, we were the worst side in the league for keeping the ball but we were the best side in the league for winning the ball back. And we were. We had a particularly good work ethic as I said. You did your own job and half of someone elses. With the exceptional players being able to create chances and put them away. Obviously Hicky and Mills worked particularly hard upfront. Foggy making those long runs from deep in midfield, me and Bobby Murdoch supplying the balls and Graeme Souness dictating play a little bit. A strong defence. We just worked very, very hard and solidly for each other and it was a magnificent side. It was a real pleasure to be a part of it. I was the baby of the side.
Fly: Those first two seasons under Big Jack we won the old Second Division so brilliantly as Charlton's Champions but we then came very close at the top of the old First Division didn't we?
DA: Well yes. That is because we all believed in ourselves, we believed in the system and the way we played we had good players as I've already said. I think looking back and you look at Nottingham Forest for example. I felt we were the Nottingham Forest a year ahead of the Nottingham Forest side. I think Jack, if there is any criticism of Jack and it would be wrong to do that, he is very disappointed now that he didn't buy somebody like Trevor Francis, another forward who could really make us be a side that was always in contention for winning championships, winning cups. I think that was his only failing if he has one. But he realises that and admits it himself that he should have gone in for a quality striker and we would have done what Nottingham Forest did a year after us.
Fly: I remember the rumours around my school about Frank Worthington and that he was looking at houses in Guisborough. Someone like that have been good for us wouldn't they?
DA: Yes of course they would. There were a few around then. I think David Cross of Coventry was mentioned wasn't he? But we did what we did and we did it very, very well but again just fell a little bit short at that particular time. If he had bought another top quality forward I think we would have been up there with the Liverpools, Man Uniteds and the Arsenals and the Tottenhams.
Fly: How would you describe your position in the team? Wingers had gone out of fashion in the late 60s and early 70s. You were very strongly left sided and part of an incredible midfield.
DA: Well that helps doesn't it? I wouldn't class myself as a winger, never have done, never will do. I I think that was the problem with England to be honest, they classed me as a wide, left-sided player and I never considered myself that. At the time when Jack was there I worked the left side of the whole of midfield very, very, well, helping Frank (Spraggon) out as left back and did my fair share of defending. Helping midfield, putting the passes through to Foggy and then getting on the end of things as well. That's part of being a midfield player, whether you are left-sided, inside forward or whatever. As I matured and learned my trade a little bit more and wanted to be a bit more involved, I became a bit more like an old inside left. But I think England and Bobby Robson in particular always thought of me as a left wing back sort of role. I was never quick enough to be a winger so was never going to fulfil what he expected me to do. It was a pity that Jack wasn't manager of England or Lawrie McMenemy. But that's life, you are dealt the cards, you do what you are good at. I think I did it consistently very, very well at club level where they always mentioned that I was one of the first on the team sheet. That'll do me. That is my bread and butter. They pay my weekly wages. Of course it is lovely to get selected for England but it just emphasises how football is such a great topic of conversation because we all have different views on who should be playing where. Why aren't they playing there? That is why there are so many discussions in pubs, all over country about various players and teams that I have played in.
Fly: You used the word consistent and at Middlesbrough you were Mr Consistent, never off the team sheet and you never got injured.
DA: No I played for about eight seasons didn't I before I missed a game.
Fly: That is unbelievable. No one could do that now. No one did it then.
DA: If you did it would be someone like Frank Lampard who was always in a good run.
Fly: Or a goalkeeper..
DA: A goalkeeper is the only one to have played more, I think, consecutive games. Harold Bell (Tranmere) in 1940 something. It was something I never really talked about but it was always the press that pointed out, he has gone on for another season and he has made 300 and something appearances in a row. It never really bothered me. The important thing for me is whether I conducted myself right, prepared myself right for the games. I loved playing football, that is what it is all about. To send people home with a smile on their face, during difficult times, when there were power cuts and people were out of work and strikes. The least we could do and getting paid for it, not very much but still getting paid and keeping fit, was to go out and show people how good you are, express yourself and try to send them home with a smile on their face. That is what we tried to do.
I had two brothers that played non league and they had to do a day's work before they went out to play on a Tuesday night. Then on a Saturday morning. And then here am I very fortunate to be getting paid for it. The least I could do was try to prepare myself right and conduct myself right both on and off the field and that is exactly what I did.
Fly: And you left Middlesbrough and played at Southampton, a top team with big names and you went on to play for England.
DA: Yes, good days. My life in football was absolutely fantastic playing with some great players and played against some great players. I just felt at that time that it was the right opportunity for me to move from Middlesbrough. I just felt they were on the slippery slope and as it turned out I was right, unfortunately for the club. Southampton were in Europe, they had Keegan, they had Channon, they had Ball. They were very entertaining. They loved to go forward, conceded a few goals as well but the way they played was absolutely fantastic. The Dell was quite tight, smaller than Ayresome Park but the fans really loved being entertained and enjoyed the football we played there. It was a good time to be there, as with Middlesbrough, it was a great party atmosphere.
Middlesbrough for me was my family, really. That is the difference between the two clubs. My family at Middlesbrough who I grew up with and they helped and developed and nurtured me. And then I moved to Southampton who were full of stars, and we had stars who played in the team. Middlesbrough had a team who worked particularly hard but never really looked for stardom and never felt like a star and that was the difference between the two clubs really. Other than that we went out and enjoyed ourselves.
Fly: You must have enjoyed it in Southampton because you have stayed in the south coast area.
DA: Yes, it is a nice part of the world of course. It is a long way to come back home. I'm from Durham City and my wife is from Sunderland. All of our families are up here. But we felt it was right to stay down there for the quality of life and it is a little bit warmer. Probably a few more opportunities too for our kids, the kids have all grown up there. It just felt right to remain down there. If things change I have no idea but at the minute we are quite happy down there.
But it is lovely to come back, I have to say, you get to Scotch Corner or just before there to turn off for the A19 and come on the A19 up to Middlesbrough and up to Durham and Sunderland where we are from and the hairs on the back of your neck stand up. There is a real warmth about the place, there always has been and always will be. It is just people of the north. It doesn't matter if you are a Middlesbrough supporter, Newcastle supporter or a Sunderland supporter, those supporters really live and breathe the game of football, don't they? Their lives revolve around the game of football, a lot of them and it's a lovely place to be.
Question to win a copy of The Bald Facts biography - where was David Armstrong born? Deadline is Friday 6pm. Results of the two winners, drawn out of a hat on Monday.
Click HERE

Mark your email Bald Facts Competition.