BRASS: DURHAM INTERNATIONAL FESTIVAL RETURNS
By Tracy Hyman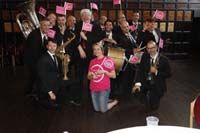 Brass: Durham International Festival was launched in bright sunshine today to colour the streets of County Durham with incredible sights, sounds and experiences. Organised by Durham County Council, this annual festival will run for two weeks until Sunday July 21st.
Showcasing a diverse array of internationally acclaimed artists and ensembles with numerous free and ticketed events, this dynamic feast of sound will provide something for every taste and every family to enjoy. Not only will BRASS celebrate County Durham's esteemed musical history, it seeks to push the boundaries of brass music, delighting long-standing fans and bringing the magic of brass to new ears. With high-spirited performances on every street corner, captivating concerts and striking art installations peppering the city, everyone will have a chance to be a part of the electrifying carnival that is BRASS.
Already a city bustling with history, culture and tourist attractions, July also sees Durham playing host to the incredible Lindisfarne Gospels (July 1st – September 30 2013). There really is no better time to take in everything Durham has to offer; let BRASS be the soundtrack to a vibrant family day out.
On Saturday July 6th , Streets of BRASS kicks the party off, bringing artists and performers from across the UK to the cobbled streets of Durham City.
Amongst the countless performers appearing during the festival, you can catch the UK's best jazz ensemble, The Scottish National Jazz Orchestra, join the festivities with Hackney Colliery Band, who, with their eclectic mix of brass, Balkan beats and contemporary hip-hop, are revered as one of the most exciting live bands in the UK. You can also enjoy the fabulous sounds from the world famous Grimethorpe Colliery Band, the real stars of the hit movie Brassed Off.
Marvel at French company Zic Zazou as they unleash their unpredictable and hilarious magical bandstand, witness the ground-breaking collaboration between the North East's top singer-songwriter, The Lake Poets, and Stanhope Silver Band, as leading local brass musicians take on Martin Longstaff's haunting folk melodies.
There's treats for the eyes as well as the ears, as BRASS:Pitch brings fascinating brass themed art installations to Durham City.
Then on Friday 19th and Saturday 20th July, take in special screenings of The Miners' Hymns and Tony Benn – Will & Testament, in the stunning surroundings of one of Durham's most iconic buildings; Redhills Miners' Hall. Chronicling the fate of coal mining communities in North East England, and the life and career of Labour's longest-serving MP respectively, this is an extraordinary opportunity to experience some great art in a beautifully fitting context.
Throughout the festival you can also join in the fun - by attending a BRASS bash in your area, as bands burst into village halls and community centres across the county - from Barnard Castle to Blackhall.
Cllr Neil Foster, Durham County Council's Cabinet member for economic regeneration, said: "BRASS is one of the highlights of County Durham's cultural calendar. This exciting, lively festival inspires artists and audiences to look at a much-loved musical tradition in a very different way.

"Talented musicians and performers from across the world will be playing a wide range of musical styles from classical to funk in theatres, nightclubs, schools and village halls as well as on the streets of the county.

"This year's event is part of our Year of Culture, which promises to boost the county's cultural offering and economy with a series of high profile events and activities."
Tickets are now on sale for some BRASS events.
Get the latest BRASS news by visiting www.brassfestival.co.uk
or follow:
twitter.com/DurhamBRASS
facebook.com/DurhamBRASS
photos - Tracy Hyman