Cattle and Cane's Night at the Museum
By Rob Nichols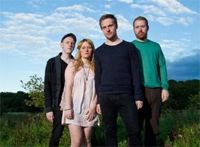 Thornaby's own Cattle and Cane cross the Tees to launch their new single at Preston Park Museum this weekend. The evening gig with Fake Major sold out in less than 24 hours encouraging promoters The Kids Are Solid Gold to put on a matinee performance. There are still a handful of tickets remaining for that teatime all ages show but be quick about it. http://www.thekidsaresolidgold.co.uk/
Looking ahead to the single launch Tracy Hyman and myself chatted with Cattle and Cane's Joe, Helen and Fran Hammill. Here is a transcript of some of that interview.

Rob: So can you tell us about the single launch, the single itself and the launch?
Helen: We were working towards our album and we realised we hadn't put anything out there for a while so just while we're recording the album and getting all that sorted we thought it'd be a good idea to put a single out there just sort of give a taste of what the album's gonna be like and just sort of the flavour that's going for.
The band went to a studio in North Wales, October last year.
Joe: That was just to do like a sampler for the industry and we did I Will Rise and that was deemed good enough to release as a single. We haven't done the album yet, that's going to be happening in the Summer holidays hopefully. I can't wait to just get it done because it's been like three years now and we've done 2 EP launches.
We did them both at the Westgarth. That's partly been because, it's like you've (Fran) had a full time job and I've been at uni, I'm just finishing uni. So we're getting towards the place where we should be doing our first album.
We have been busy because we got signed and we're working towards the album.
J: Yeah so that was really good. We've just been totally working hard on the songs, getting the album as we wanted it to have as much impact as possible.
Rob: Do you know what's going to be on the album?
J: Erm…
H: Changes every week.
Tracy: Are they all completely new songs?
J: From the first EP Sold My Soul will be on it, and Bell will be on it, and that's probably it. And I Will Rise will be on it. Then the rest of the songs we're playing at the single launch. So, it's kind of like a little album sampler isn't it.
H: See how it goes down.
Rob: And would you go back to Wales to record the album?
H: We're going to record the album there.
Fran: Giant Wafer Studio
Tracy: And you want to keep the momentum going?
J: I want the album done as soon as possible.
F: We'd never met the producer before so that was nerve wracking in itself just to meet him for the first time and the engineer.
J: Yeah so it takes a while…
F: We know him now and when we go back it'll be good.
Rob: Will we hear a difference in the sound then?
H: I would say so
J: Yes, for the album.
Rob: But the single?
H: Yes
J: Yeah you will
H: I think it's different. Like a lot of our songs sort of , they like build up and then it's like a crescendo like at the end like Sold My Soul, whereas I Will Rise is sort of straight in there, like that's what we wanted it to be.
J: The radio mix, it's called the radio mix for a reason, it's just they want the impact straight away, drums in from the start. Two minute thirty pop song really.
Rob: So that's an education for you isn't it, you saying the radio mix it's a different approach isn't it?
J: Totally. Yeah we're being told by producers let's try and make it radio where I've always been about I want it emotional and I want to build that. For certain songs you need to go for that.
F: You've sold your soul haven't you?
J: I think there will still be atmospheric stuff on the album. There will be the heart pulling string moments.
H: But that's what we want to do, you want to show a range on the album.
J: Exactly
H: What we can do. We still love doing the soft acoustic stuff, but we love doing the big songs as well.
J: And there'll be a range as well because you've got two main vocalists on the album, me and Helen, so you've got a bit of depth there vocally. I'm really excited to get it done, it's been three years of writing a lot, whittled it down to about ten or eleven songs.
H: So it's like the single and we'll have three other tracks on the CD. Red is the B-side we did in Wales and then we've got Strike A Match and In Your Arms which are live, they'll be going on as well.
J: So hopefully that will give us a good start, and an idea of where we're going.
H: We've only got a limited run of the CDs. So we'll sell them then and online and the rest will be digital.
Rob: You must be really excited about the single launch. It's an incredible venue and everything. And the tickets, how quickly did it sell out?
H: Erm, less than 24 hours. I love saying that.
J: The first band to play the museum, I might be wrong.
H: Keaton Henson.
J: Did he have a band?
Rob: No. Was there a support?
H: Natasha Haws?
Tracy: Yeah. So first band to play the museum.
F: Trailblazers.
J: We want to do something special rather than another Arc or Westgarth, you could sell more tickets but we want it to be a more intimate, more special venue.
Rob: Memorable.
And the band had this to say about the Matinee show at Preston Hall.
H: Yeah, it's sort of aimed at families. I think, because we appeal to families, obviously because we're all…
Rob: … a family
H: … and obviously a lot of families can't see us really because we always play on the night time in venues where they wouldn't get in so.
J: And there's reduced prices.
H: Yeah there's a good opportunity to get in.
Rob: That's really good that, really nice.
J: We're doing it with The Kids Are Solid Gold, who we do all our EP launches with. We obviously know Andy Carr and he's great, he's a great guy.
H: And he's helped us out so much as well. So we love doing ..
J: He's supportive… he's cracking. Cracking fellow.
Rob: Oh yeah, absolutely.
Tracy: We saw the band that are supporting you, Fake Major.
H: At Sumday?
Rob: They were really good.
The band have some gigs lined up with Half Moon Run who were the main support for Mumford and Sons on their last tour.
Then it has to be all about the album.
J: I just want it done, I just want it out there.
See Cattle and cane launch I Will Rise on Saturday in the magnificent ballroom at Preston Park Museum. But be warned there were only a handful of tickets left on Friday morning.
http://www.thekidsaresolidgold.co.uk/
£10 Adv / £12 Door (Under 12's £4)
5.00pm - DOORS
5.15pm - 5.45pm – FAKE MAJOR
6.00pm – 7.00pm - CATTLE & CANE